Beaumont Edition Wood Bed Frame (Solid Oak Wood)
The Beaumont Wood Bed Frame features a tall solid oak wood headboard for comfortable backrest while reading. The subtly angled and tapered high headboard turns a classic design into a statement in design. With a rich and warm natural oak presence, this bed is both sturdy, comfortable and beautiful to watch.
This bed frame comes in King, Queen and Super Single sizes.
Flatboard if required is placed on top of existing bed slats as shown above.
Add the matching Beaumont Side Tables to this bed frame for a special discount.
The Beaumont Edition Wood Bed Frame uses Solid American Oak Wood
Throughout history, oak furniture has appeared in homes around the world. It has a timeless appeal that never quite goes out of style even when another type of wood becomes temporarily more popular. As oak is a dense, hardwood that lasts a long time, shoppers can count on keeping solid oak furniture around for a while. The exceptional durability also means that buyers can put their mind at ease even when buying used oak furniture. Unlike particle board furniture, oak lasts many years, which is why many vintage furniture pieces like tables and wardrobes are available. Additionally, as oak wood is semi water resistant, a varnish or clear finish helps make the wood impervious to liquids, staining, fading, and cracking due to dryness.
Read the difference between Malaysian Oak and American Oak
Material:
Solid American Oak Wood
Product Dimension:
(W) x (L) x (H)
Super Single: Exterior is 113 x 204 x 100 (cm), Interior Size for mattress is 107 x 191 (cm)
Queen: Exterior is 158 x 204 x 100 (cm), Interior Size for mattress is 152 x 191 (cm)
King: Exterior is 189 x 204 x 100 (cm), Interior Size for mattress is 183 x 191 (cm)
Delivery Type:
White Glove Delivery
Colors:
Natural Oak
View At Showroom:
Yes
Stock Availability:
Please email to hello@namufurniture.com.sg for updated stock availability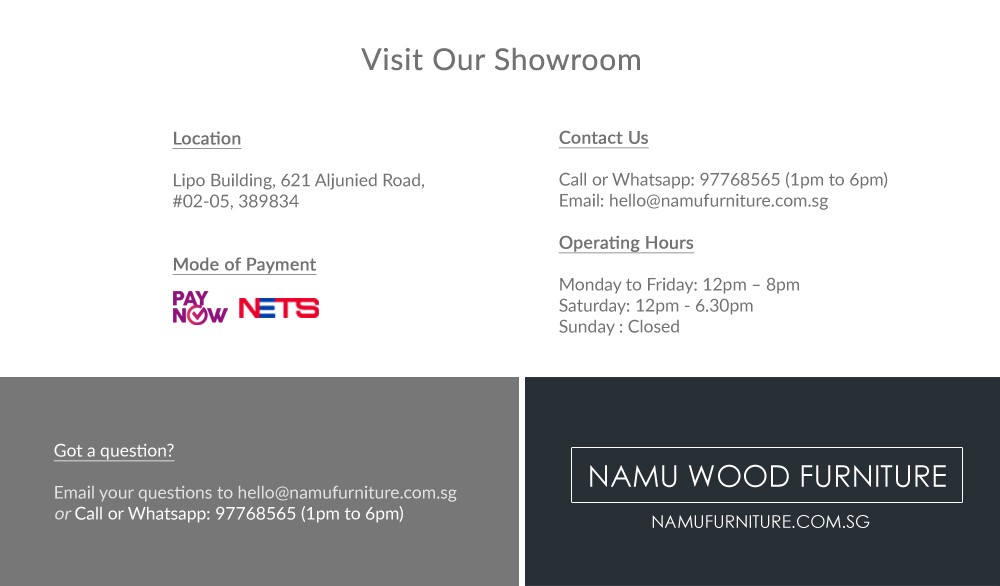 | | |
| --- | --- |
| Bed Sizes | Super Single Size, Queen Size, King Size |
| Add Bedside Tables | No Bedside Tables Required, Add 1 Beaumont Side Table (Usual $399) + $349, Add 2 Beaumont Side Table (Usual $798) + $698 |
| Flatboard (+$40) | Yes, No |
---