Julien Dining Table (Solid Oak Wood)
Special Dining Set Offer: $100 OFF when purchasing this item as part of a dining set. Additional PAYNOW 10% OFF for purchases above $2000.
Mid-century meets modernism with the Julien Solid Wood Dining Table. Built entirely in full solid oak wood, this beautiful piece of furniture stirs angular and softly tapered contours together in this piece perfect for urban, ranch, vintage modern, and other transitional decors. A striking combination of solid practicality with style, the Julien Solid Wood Dining Table is a versatile set that is ideal for anything from casual dining to family get-togethers and dinner party.
Material:
Solid American Oak Wood
Product Dimension:
120cm (L) x 75cm (W) x 74.5cm (H)
130cm (L) x 75cm (W) x 74.5cm (H)
140cm (L) x 80cm (W) x 74.5cm (H)
150cm (L) x 80cm (W) x 74.5cm (H)
160cm (L) x 80cm (W) x 74.5cm (H)
180cm (L) x 90cm (W) x 74.5cm (H)
Delivery Type:
White Glove Delivery
Colors:
Natural Oak
View At Showroom:
Yes
Stock Availability:
Please email to hello@namufurniture.com.sg for updated stock availability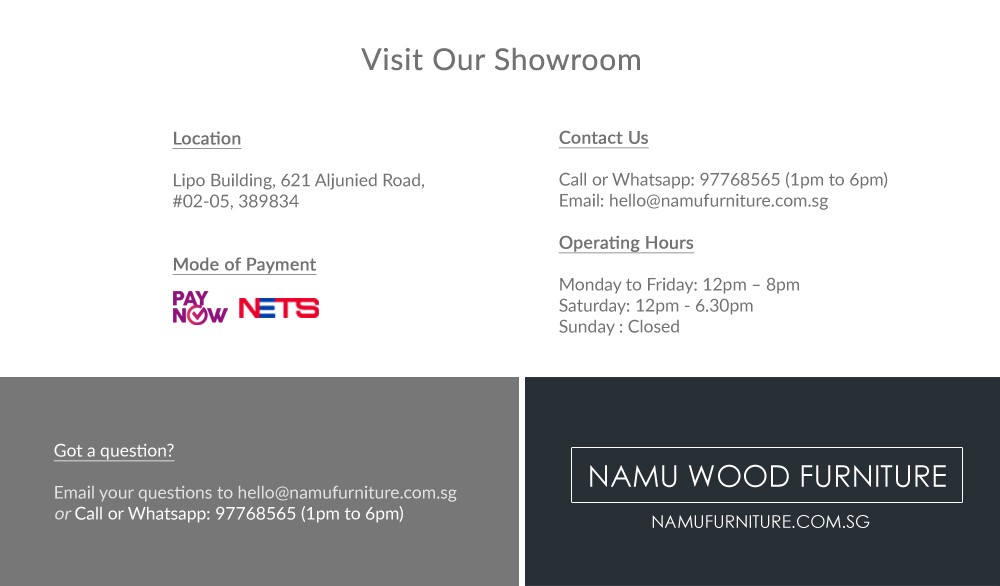 | | |
| --- | --- |
| Sizes | 120cm (L) x 75cm (W) x 74.5cm (H), 130cm (L) x 75cm (W) x 74.5cm (H), 140cm (L) x 80cm (W) x 74.5cm (H), 150cm (L) x 80cm (W) x 74.5cm (H), 160cm (L) x 80cm (W) x 74.5cm (H), 180cm (L) x 90cm (W) x 74.5cm (H) |
---