Oscar Dining Table (Solid Oak Wood)
Special Dining Set Offer: $100 OFF when purchasing this item as part of a dining set. Additional PAYNOW 10% OFF for purchases above $2000.
The Oscar Dining Table features a simple clean design with rectangular plank styling. Paired with wood or upholstered chairs, the table will unify a progressive dining room aesthetic that effuses homeliness.
Material:
Solid American Oak Wood
Product Dimension:
120cm (L) x 75cm (W) x 74.5cm (H)
140cm (L) x 80cm (W) x 74.5cm (H)
160cm (L) x 85cm (W) x 74.5cm (H)
180cm (L) x 85cm (W) x 74.5cm (H)
200cm (L) x 90cm (W) x 74.5cm (H)
Delivery Type:
White Glove Delivery
Colors:
Natural Oak
View At Showroom:
Yes
Stock Availability:
Please email to hello@namufurniture.com.sg for updated stock availability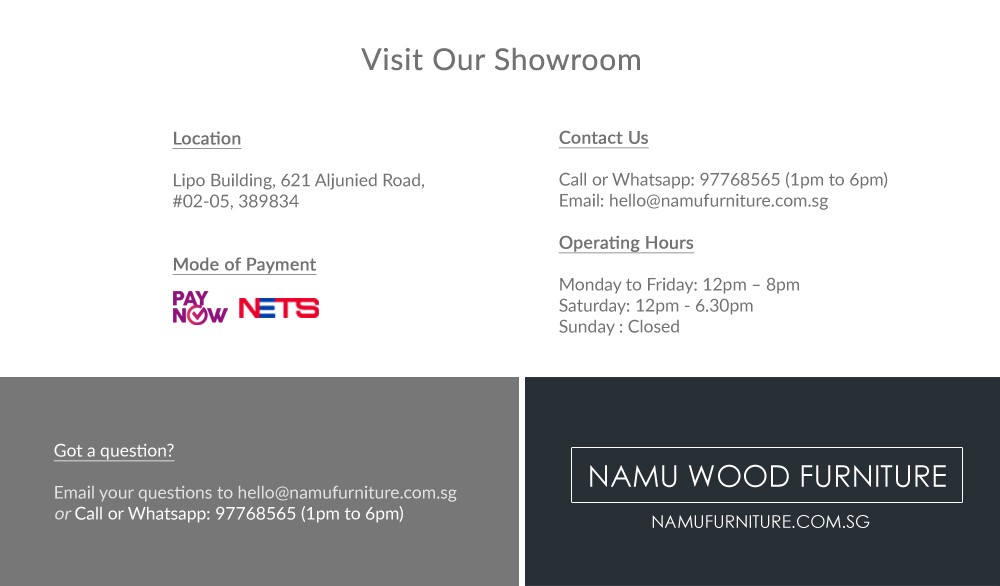 | | |
| --- | --- |
| Sizes | 120cm (L) x 75cm (W) x 74.5cm (H), 140cm (L) x 80cm (W) x 74.5cm (H), 160cm (L) x 85cm (W) x 74.5cm (H), 180cm (L) x 85cm (W) x 74.5cm (H), 200cm (L) x 90cm (W) x 74.5cm (H) |
---