Silentnight Classic Collection Cexanne Mattress
Prices start from S$899
Visit our showroom for details on bundle price with bed frame
Ready stock – Lead time for delivery in 4 working days
Purchase of this mattress includes:
Free 2 pillows + 1 mattress protector for Queen and King size
Free 1 pillows + 1 mattress protector for Single and Super Single size
Free delivery
If climbing of stairs are required, first 3 levels are free and subsequently at $10 per level
Free disposal of old mattress
FREE SLEEP TEST AT OUR SHOWROOM
Available in SG/EU/US and other customized sizes

Specifications
Mattress thickness: 9.5″ / 24cm
Individual Pocketed Spring System
Advanced Edge Guard System
Advanced Turn Free Technology
Anti-Dustmite, Anti-Bacterial, and Anti-Fungal treated
15 Years Limited Warranty
Size guide for this mattress


Also Available In Other Customized Sizes

| SIZE | LENGTH | WIDTH | THICKNESS |
| --- | --- | --- | --- |
| SG SINGLE | 190cm | 91cm | 24cm |
| SG SUPER SINGLE | 190cm | 107cm | 24cm |
| SG QUEEN | 190cm | 152cm | 24cm |
| SG KING | 190cm | 183cm | 24cm |
| AU/EU | 200-203cm | 153-183cm | 24cm |
About The Brand
In 1898, Samuel Bronstein founded United States Bedding in St. Paul, Minnesota. Throughout the early 1900s, US bedding expanded and improved on the bedspring, under the name King Koil. King Koil has come a long way since, its mattresses representing the epitome of quality & value. Through the 1900s King Koil expanded globally to become one of the industry leaders. Currently King Koil can be found in over 70 countries worldwide, with its worldwide headquarters located just outside of Chicago, Illinois. In 2004, the name Comfort Solutions was adopted as the Head Quarter's company name.
Incorporated in 1968, Matsushita Greatwall Corpn Pte Ltd (MGC) pioneered the manufacture of spring mattresses in Singapore under the renowned Wonderland brand. In the 1980s, armed with better technical know-how, they progressed to secure the licensing rights of international brand King Koil. MGC is the exclusive manufacturer and distributor of King Koil products in Singapore and Brunei.
Other brands under the King Koil stable include Dorma, Silentnight, Wonderland and Stylemaster.

King Koil Quality in Hotels All over the World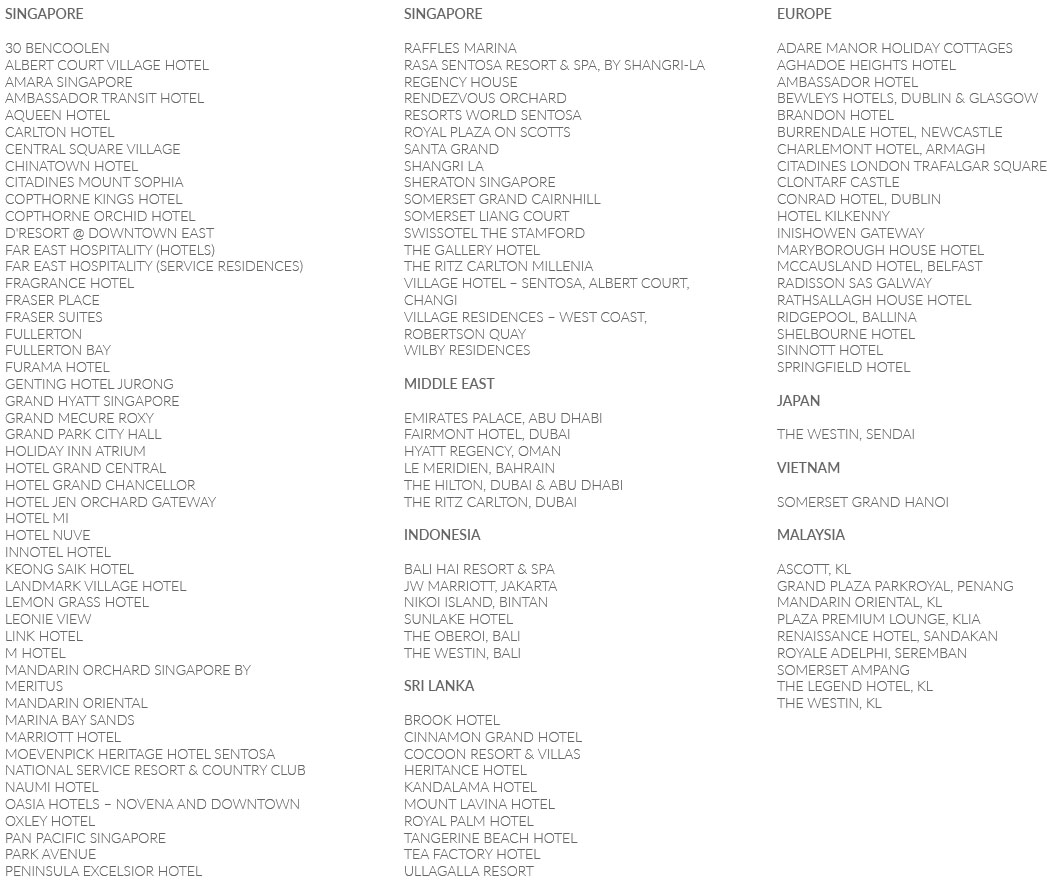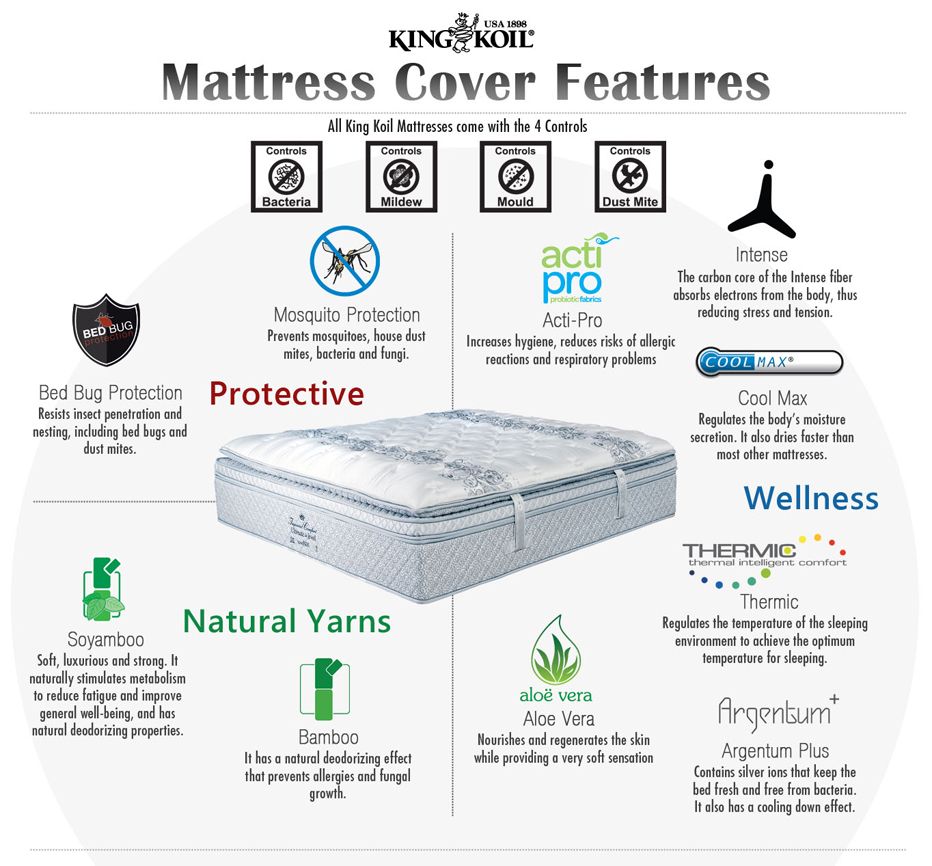 5 Zone Individually Pocketed Spring

Five specialized contour zones are created through heavier guard coils and increased coil concentration in specific body areas. Our 5 zone individually pocketed spring comprise a greater concentration of springs at the vital center third of the mattress, i.e. Spine area, providing extra support where your body is the heaviest. It conforms to your natural curves, supports concave areas such as your lower back, as well as your spine and body in a natural position while you sleep.
Target contour zones
5 – zone Head & Shoulder Support / Upper Body Comfort / Spine Support / Lower Body Comfort / Lower Legs Support
Individually encased coils reduce motion transfer resulting in minimal disturnbance to your sleeping partner.
Benefits
Meets specific contour support requirements
Provides superior quality sleep
Superior Foam Encased Technology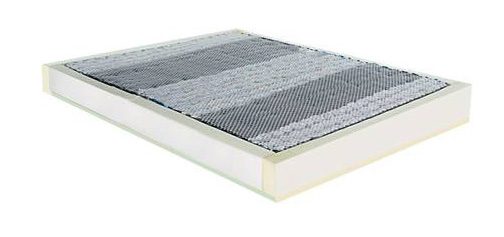 Features
The spring unit perimeter is encased with 3″ ILD foam to provide maximum sleeping surface from edge to edge. This added edge support is a signature of exceptionally high quality standards
Benefits
Maximum sleeping area so you can sleep right up to the edge without a roll-off feeling
Reinforced edge support prevents sagging borders.

Features
Plush Micro-Gel/Royal-Gel fibre pillow top emulates the lightness and air-trapping abilities of natural goose down feather. Micro-Gel fibre displays thermal insulation properties, having a superior warmth rate. As an alternative to natural goose down feather, Micro-Gel fiber also benefits consumers by requiring minimal care.
Benefits
Hypoallergenic
Odourless
Enhanced breathability
Anti-microbe
Anti-fungus
Anti-dustmite
Features
Latex comfort padding are made using the sap extracted from rubber trees. This material is natural and eco-friendly.
Latex comfort padding provide even support through the spine and conforms to body shape, absorbing body movements and reducing pressure points for a restful night's sleep.
Benefits
Anti-microbial and dust-mite resistant to alleviate allergies
Optimal orthopedic support (naturally conforming to body contours)
Luxurious resilience and feel
Enhanced breathability
Resistance to moisture and heat
Superior pressure relief that helps bring better blood circulation and relax muscle
Elimination of sleep disturbing motion transfers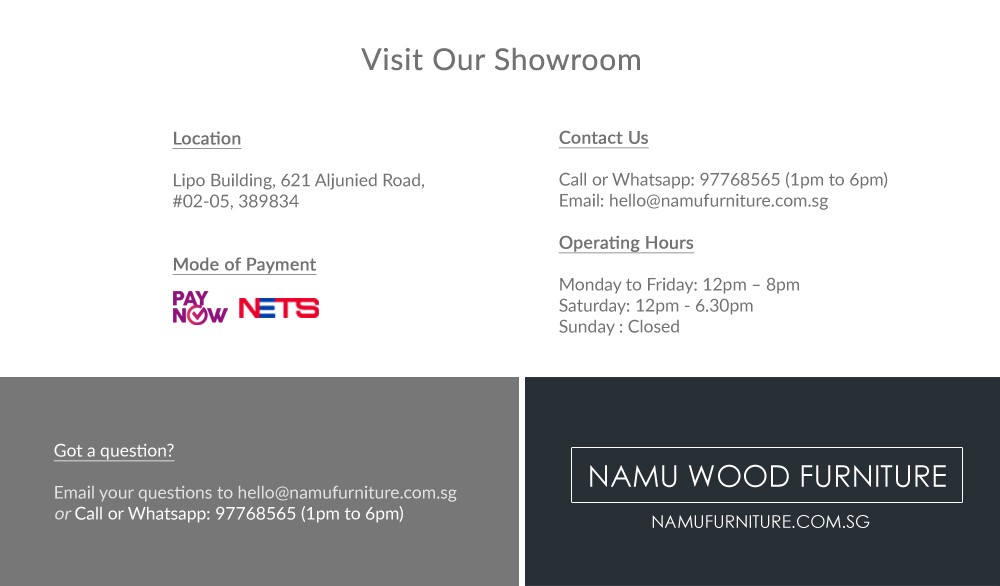 ---